Click here to renew your membership or update your membership profile information.
The Ben F. Jones Chapter of the National Bar Association
Annual Meeting & Elections*
Tuesday, October 18, 2022 at 5:30 PM via Zoom
*Only Ben F. Jones Chapter members will be admitted to the meeting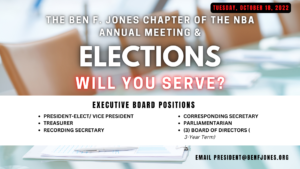 Details regarding our meetings and events may also be found on Facebook.
2022 General Body Meeting Dates:
October 18, 2022
Novembeer 15, 2022
December 20, 2022
COMING SOON…
2022 Barristers' Ball
Saturday, November 12, 2022 
Memphis Botanic Gardens | Hardin Hall
6:00 p.m. 
Attire: "Dress Like Your Choice of Royalty"