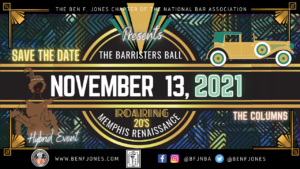 ​
The 1920s Memphis Renaissance Revival: Celebrating the Memphis Arts Community
Are you ready for a flashback back to the 1920's? 
 
Please join us from your homes or in-person for the 2021 Barristers' Ball: a historic night of food, fun, and fellowship!
This event is a fundraiser.  One of our Chapter's goals is to continue supporting diversity in our profession and investing in the next generation of legal minds.  We are requesting your support for the Ben F. Jones Chapter of The National Bar Association's 2021 Barristers' Ball, which will be held both in-person and virtually on Saturday, November 13, 2021 6:00pm, at The Columns, located in the heart of downtown Memphis. Please review our current Covid-19 policy below.  Interested individuals and businesses can sponsor a table or the Barristers' Ball souvenir bags, masks, champagne flutes and hand sanitzers for guests. Please visit our  GIVING LEVELS page. 
VENUE:
The Columns is the perfect space for our 1920s Renaissance themed Barristers Ball.  It is one of Memphis' finest gala and reception venues. Built in 1929 as a bank lobby it boasts 22 marble pillars and 20,000 square feet of historic grandeur. The venue easily hosts up to 800 people and has two levels of event space, so it is perfect for maintaining social distancing. The night will feauture music from J Chism & the MTown band, a DJ, local artists and other entertianment. It will be an unforgetable evening.
THEME: 
The theme for this year's gala is centered aroung the 1920s Memphis Renaissance Revival. The event will include an opportunity for attendees to connect, celebrate the scholarship recipients, and reflect on the organization's goals—to be engaged, respected, and relevant.  
FUNDRAISER:
Proceeds support diversity scholarships at The University of Memphis – Cecil C. Humphreys School of Law, as well as, other Chapter endeavors such as resources needed to host the 2022 National Bar Association  Convention. The Ben F. Jones Chapter is the host of the National Bar Association's 97th Annual Convention, in Memphis, Tennessee, July 24-29, 2022.
SILENT AUCTION:
The Silent Auction will go LIVE to VIP registrants first.  Stay tuned and get ready!
RECOGNITION & HONOREES:
The Chapter will  award three Judge D'Army Bailey scholarships to diverse students attending the University of Memphis School of Law. The Chapter will also present the A.A. Latting Award for Community Service, the A.A. Latting Award for Legal Service, and the President's Award.   The Chapter will also recognize our hard working board members for the 2020 and 2021 years.
SPONSORSHIP OPPORTUNITIES:
We invite you to join us as a sponsor for this signature event.  We anticipate having hundreds of attendees, including Chapter members, state and local government leaders, other professional associations, and members of the community. All proceeds are tax-deductible through the Chapter's nonprofit entity – the H.T. Lockard Foundation.
ATTIRE: 1920s inspired (The Gatsby Look).  Or dress up your evening gown or cocktail dress with long pearls, a headband, feathers, fan, gloves and TStrap or Mary Jane styled shoes. Suits can be dressed up with a vest, bow tie or skinny tie, pocket chain watch, and/or spectator oxford styled shoe.
COVID-19 HEALTH POLICY (Subject to change)
In light of the increase in COVID-19 cases and our desire to provide a safe environment as possible for all guests, ALL persons attending the Barristers' Ball, IN-PERSON, must be vaccinated OR have proof of a negative COVID-19 test within 72 hours of the event. Masks will be encouraged during the in-person event. All persons attending the Barrister's Ball will also be encouraged to wear masks when they are not eating.
Proof of vaccination or test results must bear a name that matches the government-issued identification for everyone entering the event. At home tests will be accepted.
PROOF OF VACCINATION:
We will accept a picture, scan on your cell phone, photocopy, or original document of your CDC-issued vaccination card.
If you need a replacement vaccine card, you can contact your vaccine provider or local health department.
To be fully vaccinated you must receive your final shot by 10/30/2021.
14 days after your second shot of either Moderna or Pfizer
14 days after your first shot of Johnson & Johnson.
QUESTIONS:
Any questions regardign this event can be directed to the Ben F. Jones's Chapter Vice-President/Barristers' Ball Chair, Laquita Stokes at LStokes@stokesandglass.com
H.T. Lockard Foundation
P.O. Box 3493
Memphis, TN 38173