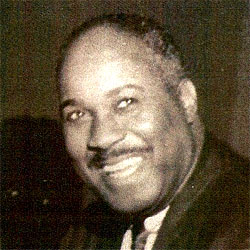 In a word, Ben had "style."
Born on November 28, 1919 to a dentist and a school teacher, Benjamin Franklin Jones was about as middle class as society would allow African Americans to be at that time.  According to Judge H.T. Lockard (a longtime colleague and friend), Ben Jones was "handsome, studious, and always impeccably dressed."  Lockard met Jones in 1940, when Jones was a senior and Lockard was an entering freshman at LeMoyne College (which would later merge with Owen College to form today's Lemoyne Owen College).  As undergraduates, Lockard and Jones both became members of Alpha Phi Alpha Fraternity, Inc.  Jones also grew closely acquainted with another LeMoyne student and future outstanding Memphian – Benjamin L. Hooks.  All three gentlemen took several college classes from a popular LeMoyne professor, Mr. Arvis "A.A." Latting, Sr., who also happened to be a practicing attorney (one of the very few black lawyers in Memphis at that time).  Latting would prove to be an inspiration and valuable mentor for many young black students in the 1940s, including Ben F. Jones.
Ben Jones served his country in World War II as a Staff Sergeant in the United States Army.  After the war, Jones attended Lincoln University Law School – a small historically black institution outside of St. Louis, Missouri (where Lockard was also a student).  In law school, Jones' tenacity and fearlessness often pushed him to the forefront of campus life.
On one occasion, Jones and some of his classmates discovered that one of the school's most popular faculty members – while having earned a juris doctor degree – had never actually taken the bar exam in any state.  Refusing to settle for what may have been perceived as a substandard education, Jones and others pressured the dean of the law school to rectify this ordinarily disqualifying omission.  Finally, the dean announced that the professor's contract would not be renewed unless he took and passed the bar exam – which the professor promptly did.
After the summer of 1948, Jones returned to campus for the start of fall classes, only to find the dean's office conspicuously empty and his duties neglected for weeks on end.  It was rumored that the dean was busy campaigning for a vice presidential candidate with whom he had prior professional ties.  In yet another display of sheer doggedness, Jones led a mobilization of students to bring the dean's unauthorized absence to the attention of the Board of Trustees, which ultimately demanded the dean's immediate return to his post.  Jones never shied away from such controversial and often risky demonstrations, and he unabashedly refused to negotiate the standards of his own education and professional development.
Ben F. Jones received his Tennessee license to practice law in 1949.  Like all other black lawyers of the time, Jones' license was mailed to him several months after passing the bar – and several months after his white counterparts had been publicly recognized in a formal induction ceremony for the same achievement.  The by-laws of the Memphis Bar Association forbade blacks to join whatsoever.  The American Bar Association reservedly permitted black members, but blacks were not allowed to attend any social functions or rent hotel rooms at convention venues.  Despite these impediments, Jones persisted in his endeavor to engage in a meaningful legal practice.  Armed with stubbornness, education, and licensure, Jones reunited with his college mentor, A.A. Latting, who invited Jones, H.T. Lockard, and Benjamin Hooks to join his law practice.  The three newcomers each agreed to lease space in Latting's office at 362 Beale Street, but Latting somehow never brought himself to collect a single month's rent from his young protégés.
Latting, Lockard, Hooks, and Jones each worked as general practitioners, honing a diverse array of practice specialties to include divorce, personal injury, criminal defense, real estate, and probate.  While the office technically had no white clients, teams of white lawyers from large firms would often call upon Mr. Latting to assist with controversial cases – particularly where black criminal defendants, black plaintiffs, or key black witnesses were involved.  Latting, Lockard, Hooks, and Jones also spearheaded most of the local civil rights cases of that time – many of which were of immeasurable social import – and each lawyer ultimately became a specialist in his own right.  Jones played a notable role in the legal strategy sessions that took place in preparation for the criminal defense of those arrested in the lunch counter sit-ins at the downtown Walgreens at Madison and Main – which still stands and (ironically) now serves a host of current Ben F. Jones chapter members every day.
Benjamin Hooks described Jones as "a very fine lawyer" who was "loyal, honest," and "a man of integrity."  Hooks and Jones had lunch together daily for many years.  Hooks distinctly remembers income tax season at Latting's office, when he and Jones would charge their clients five dollars to help decipher and properly complete the complicated IRS forms.  Hooks and Jones often stood on the outside steps of 362 Beale and offered tax assistance to random passers-by.  The two of them soon found themselves engaged in a friendly professional competition for clientele and revenues.
Eventually, Hooks, Jones, and Lockard branched off from A.A. Latting to establish their own practices.  Soon added to their professional circle were James Estes (who had begun a solo practice in the late 40s) and S.A. Wilbun (who relocated his practice from Arkansas to Memphis in the mid 50s).  These men fought their way through color lines, and each in turn would earn the respect of whites and blacks alike.  Still, it soon came to their attention that despite their proven legal acumen, there were white attorneys who often ridiculed the work product of black lawyers as slovenly and unkempt.  This deeply concerned the group, which had learned from A.A. Latting the immeasurable importance of immaculate presentation.
In keeping with the principles that Latting had instilled over ten years prior, the group held a meeting to address these critical issues.  In attendance were those who have come to be known as "The First Five" – H.T. Lockard, Benjamin Hooks, S.A. Wilbun, James Estes, and Ben F. Jones.  Thus, on an otherwise unremarkable Sunday afternoon in 1960, five African American members of the bar convened at the law office of H.T. Lockard to make local history.  Unbeknownst to them at the time, this unassuming assembly of lawyers would later prove to be the dawn of the Memphis Chapter of the National Bar Association.
At that initial meeting in 1960, the five attorneys pledged never to validate the pervasive stereotype that African American professionals were in any way inferior.  They started by challenging each other to always ensure that their substantial legal acumen was properly reflected in the flawless appearance of their work product.  Then and there, these men set professional standards for themselves – even resolving to more regularly clean and replace the worn parts on their typewriters, which were otherwise subject to unsightly smudging and illegible print.
From then on, the First Five convened once a month on Saturdays for informal study sessions on self improvement and professional development.  Over the next few years, they were joined by such noteworthy pioneers as Russell Sugarmon, A.W. Willis, Arthur Bennett, James Swearengen, Ira Murphey, and Johnny Johnson – each of whom played his respective role in the overall diversification and enhancement of the Tennessee bar.  Finally, in 1966, the group committed to officially chartering itself as the Memphis chapter of the National Bar Association – the oldest and largest alliance of attorneys of color in the world.
As the NBA partnership was being solidified, Ben Hooks recalls one day in particular, when Ben F. Jones was especially hard at work.  Hooks approached Jones around midday and asked if Jones was through working, so they could go to lunch together as usual.  Jones prophetically replied, "I'll never get through."  Just a few days later, Ben F. Jones succumbed to a sudden heart attack.  He was forty-seven years old.  Not long after Jones' death, Johnny Johnson spearheaded the official chartering of a Memphis chapter of theNBA, which would be borne out of the same study group that had been meeting informally for years.  With unanimous support from the group, the newly created Memphis chapter was named after the late Ben F. Jones.
Benjamin Franklin Jones is currently buried with fellow veterans at the National Cemetery on Jackson Avenue in Memphis.  His wife, Katherine R. Jones, is laid to rest by his side.  Jones and his wife bore no children, but his name survives indefinitely through the Ben F. Jones Chapter of the NBA, just as the chapter's founders intended.  It has been said that Ben Jones' greatest strength was that in times of immeasurable fear and uncertainty, he was simply not afraid.  The organization that now bears his name is committed, like he was, to "never get through" with diligent efforts towards self-improvement and professional excellence.  Due largely to the momentous strides and uncompromising standards of Ben Jones and his contemporaries, present day attorneys of color remain inspired never to allow their reputations or their goals to be "smudged" – by faulty typewriters, by social inequities, or by any other obstacle that may come their way.